Lloyd Green - Biographic Information
Lloyd Lamar Green was born on October 4, 1937, in Leaf, Mississippi and began taking music lessons on the Hawaiian Guitar at the age of 7 under teacher Alma McCoy. He completed his musical training at the age of 14, but already started playing professionally when he was ten years old. He graduated from Murphy High School in Mobile in 1955 and attended the University of Southern Mississippi from 1955 to 1957.
He first arrived in Nashville in January of 1957 and soon found steady work as a road musician with Faron Young. He stayed with Young's band for two years and then free-lanced with well-known artists like Ferlin Husky, Hawkshaw Hawkins and Tex Ritter, in addition to playing with numerous artists (incl. Jim Reeves) on the famous Grand Ole Opry. During those months, he appeared on one George Jones side, "Too Much Water Under The Bridge" (1957) which was the only regular studio recording session he played before he started working permanently as a studio musician in April of 1964.
In 1964, he began working as executive assistant to Roy Drusky at the newly opened SESAC office (one of the three music licensing firms).
He achieved a major breakthrough in his career with the brilliantly innovative steel guitar styling on Warner Mack's No. 1 hit "The Bridge Washed Out" in 1965.
From that time on, Lloyd became the number one session player in the Nashville studios, appearing on records of virtually every major country artist of the 1960's, 1970's and 1980's, like Charley Pride, Faron Young, Gene Watson, Don Williams, Tammy Wynette, Connie Smith, Crystal Gayle, Bobby Bare, Johnny Paycheck, Lynn Anderson, Mel Tillis, George Jones, Hank Snow, Roy Drusky, Ronnie Milsap, Ricky Skaggs and numerous others. His playing is featured on none less than 116 No. 1 Country Hits, from Del Reeves' "Girl On The Billboard" in 1965 to Alan Jackson's "Remember When" in 2004.
Lloyd Green also worked with pop and Jazz artists, including J.J. Cale, Paul McCartney, Ringo Starr, Henry Mancini and Earl Klugh, as well as with the Byrds on their seminal "Sweetheart Of The Rodeo" album in 1969. He also recorded a total of 17 instrumental albums with some songs hitting the charts, including instrumental versions of the pop tunes "I Can See Clearly Now" and "Here Comes The Sun" in the early 1970's.
His enormous impact on the Nashville music business was honored several times: He received the "Most Promising Instrumentalist" award by Record World and Cashbox in 1967, was one of the top five finalists in the Country Music Association's "Instrumentalist Of The Year" award in 1973 and 1974 and received the "Most Valuable Player" award by the National Academy of Recording Arts & Sciences (N.A.R.A.S) in 1978 and 1979. He was elected into the "Steel Guitar Hall of Fame" in St. Louis, Missouri in 1988.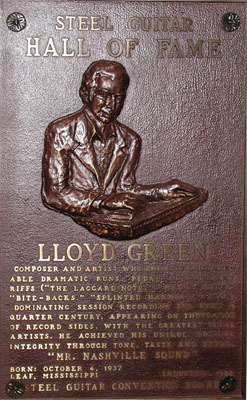 In the late 1980's, before an ear infection forced him into semi-retirement, Lloyd Green did session work with artists like Ricky Skaggs, Lorrie Morgan, the Whites and Nancy Griffith, and performed occasional concerts and Steel Guitar Shows around the country.
After 2001, Lloyd made a phenomenal musical comeback which was not only enthusiastically acclaimed by the Steel Guitar community but also very welcome by those audiences who appreciate the individual style and musical inventiveness in comparison to the technically perfect but "uniform" sounds mostly coming out of the Nashville recording studios these days.
The comeback included appearances at the Grand Ole Opry as well as the production of an instrumental video, together with Grand Ole Opry staff player Tommy White ("An Evening Of E-9th") and his fantastic new CD album "Lloyd Green - Revisited" in 2003. He also returned to session work in the studio, playing for today's top stars like Alan Jackson and Steve Wariner. Especially his hauntingly beautiful playing on Alan Jackson's "Remember When" brought back memories of the days when the personal creativity and style of a musician made the difference between a record soon to be forgotten and one that is likely to become a classic.
On February 18, 2006, Lloyd was the first member of the famous Nashville "A Team" of studio musicians and session players, to be featured in a new series of events, hosted by the Country Music Hall of Fame in Nashville, Tennessee. The presentation featured Lloyd, talking about his amazing career as well as providing examples of his magic playing.
Lloyd Green has played Steel Guitar and Dobro on more than 10,000 recording sessions. This means, on an average of three to four songs per session, he can be heard on more than 30,000 songs, thus making him one of the most recorded steel guitarist in the history of the instrument.