Lloyd Green Photoalbum
Photos are thumbnailed, just click on a photo and view the bigger image.
Please feel free to submit photos of Lloyd, I will gladly include them on this page and give you credit.
To get started, here is a full size photo of Lloyd in the studio, participating in Jimmie Crawford's last instrumental project in 2004 and a photo of the Steel Guitar Hall of Fame plaque:
(August 11, 2004, photo by Bob Knight)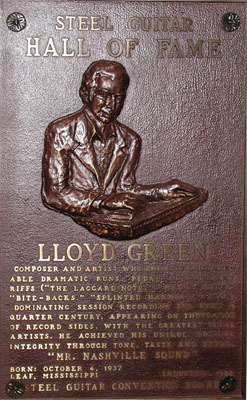 Lloyd's Steel Guitar Hall of Fame plaque in St. Louis, MO
The thumbnailed photos start here:
Lloyd Green playing with Stonewall Jackson, Chattanooga, TN, in the mid 1960's. Photo used with kind permission by Randy Reinhard
The next two photos are great historical shots from Lloyd's own collection. Special value comes from the fact that we are looking directly into steel guitar history as these two photos mark the beginning of the "LDG" era - the famous single neck guitar on a double neck frame which was Lloyd's original idea. The guitar shown on these two photos is the Baldwin Sho-Bud double neck which was converted into a single neck guitar before the first real LDG model was made.
Here are some interesting remarks from Lloyd about this guitar and the course of action, taken from a correspondence between Lloyd and Ricky Davis, one of the leading experts when it comes to technical details and the restoration of old steel guitars (and, of course, a great player!). My thanks for sharing this valuable information!
"Here are a couple of photos of me playing the Baldwin Sho-Bud. One is a studio shot snapped at a recording session, the other a CBS showcase of some sort with Larry Gatlin when he and I were artists on Monument/CBS Records.
You'll notice the studio shot is before the prototype conversion, while the one with Gatlin was shot sometime during the 6 months I played it as a padded model.
Nobody has ever seen these photos other than a few people, so they lend the history necessary to validate and authenticate the origin of the first padded model on a double-neck steel and a few months later......the first LDG!
The Gatlin photo was taken sometime between December, 1972 and May 9th, 1973, the studio shot in 1970. This steel also appears on the cover of my 1971 Prize Records album, Lloyd Green and his Steel Guitar.
When all of the C6th parts underneath were removed they then removed the 5 pedals connected to the C6th (none of my knee levers were connected to the C6th). We then put the parts on a scale, they weighed 18 lbs. The removed parts were then put in a plastic bag for storage since Shot and David were sure I would be back in a few days wanting my C6th reinstalled. I didn't, but they kept the parts and restored it to a double-neck when I took delivery of my LDG and returned the Baldwin Sho-Bud. They then undoubtedly sold it as a regular used double-neck since it would have commanded more money than the experimental version it had become.
They couldn't have realized how valuable and historic that steel would become in the future since they had no idea if they would ever sell more than just a few of the LDGs. I believe their building the model was mainly a move to keep me happy, since Pete Drake and I were their "big guns", and Jimmy Day to a lesser extent since he was floating around and we were the top session guys.
The action on the Baldwin steel was short, easy and positive. On my LDG the action is at least a third longer, mushier and not nearly as positive. And no, the E9th played absolutely no differently after the removal than before. Besides, the steel never left my view. I stayed in the shop while they removed the parts that morning since I had a 2 PM session with Danny Davis and the Nashville Brass. They would have had no time nor reason to do other than what I asked, "Remove all the parts associated with the C6th, including pedals and put me some sort of temporary pad on the bare neck on which to rest my arms."
The shop was at that time on Dickerson Road, next door to Starday Recording Studios, the main store still downtown on Broadway."
Here is a rare group photo from January 1971, taken at Vacaville State Prison in California when Lloyd and a group of Nashville session musicians recorded the live album "Glen Sherley" for Mega Records. Glen Sherley was an inmate at the time who had written "Greystone Chapel" for Johnny Cash.
From left to right: Henry Strzelecki (Bass), Chip Young (Rhythm Guitar), Jim Malloy (Producer & Recording Engineer), Glen Sherley, Jerry Carrigan (Drums), Lloyd Green (Steel Guitar), Bobby Thompson (Guitar & Banjo). Thanks for the photo, Lloyd!
This photo was taken in 1979 by Neal Hands from Australia at the legendary Bradley's Barn Recording Studio - which unfortunately no longer exists. Thanks for the great picture, Neal!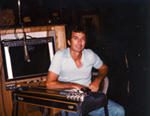 Two great (undated) photos from Heiko Aehle in Germany, possibly taken at Bobbe Seymour's Steel Guitar Shop. Thanks, Heiko!
Lloyd and Jim Gorrie in the sressing room of "The Playhouse" in Edinburgh, Scotland. Jim has sent me the photo and stated:
The photo below is of myself with Lloyd and Dot in his dressing room at The Playhouse, Edinburgh (Scotland) around 1980. He was touring with "The Nashville Cavalcade" (I think !) which included The Glaser Brothers and Wanda Jackson. I'm not sure who else was on the bill because my main reason for going was to see Lloyd.
Thanks for the picture, Jim!
Lloyd Green on stage in St. Louis in 1981, photos by Ken Mizell. Thanks, Ken! ***NEW***
Lloyd Green on stage in St. Louis in 1984, photos by Gerhard Schwarz, Germany:
Lloyd Green on stage with Ricky Skaggs (St. Louis 1988), photos by Gerhard Schwarz, Germany:
Lloyd Green and Jimmy Crawford in 1988, photo by Gerhard Schwarz, Germany:
Lloyd Green's induction into the Steel Guitar Hall of Fame 1988 (standing behind Lloyd are Jimmy Day, Speedy West and Shot Jackson), photo by Gerhard Schwarz, Germany:
Two photos from the PSGA Steel Guitar Show in Armonk, NY (1990). With kind permission by David Rupert:
Here is a group picture from Scotty's Convention in 1994, from left to rigth: Lloyd, Winnie Winston, Ralph Mooney and Herb Remington. Thanks, Winnie!
Lloyd Green live on stage of the Smoky Mountain Steel Jam (hosted by Stoney Stonecipher) in Knoxville, TN in 1995. The first photo shows Lloyd playing with Jeff Newman watching, on the second you won't recognize Lloyd as Speedy West covered up his head while playing! Photos were taken by Roger Kelly - Thanks for letting me use them!
Lloyd Green and Henning Kock from Denmark in 1996. Thanks, Henning!
Lloyd Green, Heiko Aehle and Smiley Roberts in Nashville, 2000. Photo courtesy of Heiko Aehle, Germany.

Here are some photos from Lloyd's Sweden trip in August of 2000. Lloyd played a few shows in Furuvar, together with Karen Flynn, Charlie McCoy and Nils Tuxen. He also held a seminar. Photos with kind permission from Anders Brundell - Thanks, Anders!
Lloyd Green observing Ronnie Miller (Charley Pride's road player, St. Louis 2001)

Tommy White, Lloyd Green and Hal Rugg commenting on John Hughey's playing (St. Louis 2001)
Lloyd Green and Tommy White on stage (St. Louis 2001)
Lloyd Green on stage with Don Helms (St. Louis 2002):
Lloyd Green in the studio: Photo 1 comes from the recording session for the Lyndsey Highlander project at Parlor Studio on July 10, 2003, showing Lloyd, Aubrey Haynie and Tommy Wells. Photo 2 shows Lloyd and Lauren Harding during Lauren's project at the Sound Emporium Studio in Nashville in 2002. Photos provided by legendary Nashville session player Ron Oates (who also produced the session!). Thanks, Ron!
Lloyd Green on stage (St. Louis 2003):
Lloyd Green and Russ Pahl (producer of Lloyd's fabolous album "Lloyd Green - Revisited", St. Louis 2003):

Lloyd Green and Jerry Brightman during the recording session for Red Kilby's great new album in 2004. Thanks for the photos, Jerry!
Lloyd Green and Brent Mason in the studio in 2004, recording for Jean Stafford's new album - Photo courtesy of Jean Stafford. Thanks, Jean
Henning Kock from Denmark visited Lloyd in Nashville, August 2005. Thanks For the Photos!
On February 18, 2006, Lloyd was the first featured artist in a new series of presentations, hosted by the Country Music Hall Of Fame, dedicated to the members of the famous Nashville "A Team", the studio musicians who were featured on 1000's and 1000's of recordings coming out f Nashville in the past decades. The Ford Theatre was packed as Lloyd talked about his career and, of course, gave examples of his magic playing!
The photos were taken by Gary Sill who is also shown together with Lloyd on photo 4. Thanks for the permission to use them, Gary!
Here are two photos taken in April 2006 during a presentation at the Country Music Hall of Fame Museum, honoring famous recording engineer Bill Porter. Photo 1 shows Lloyd and Boots Randolph, the other one is a group shot with several members of the famous Nashville Studio "A" Team: From L to R Ray Edenton, Lloyd Green, Boots Randolph, Bob Moore, Harold Bradley, Fred Foster, CMHOF Historian John Rumble and Bill Porter. Thanks to Bil VornDick for the great photos!
Willie Nelson and Lloyd at the BMI Award Show in 2007

Lloyd Green and the Sho-Pro Guitar, built for him by Duane Marrs and Jeff Surratt (Photo by Jeff and Gloria Surratt, 2008)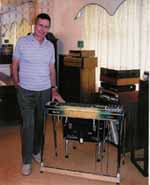 The Dallas Steel Guitar Jamboree - what a show with a great comeback appearance by Lloyd Green, presenting his new album "Journey To The Beginning", as a tribute to the original "Sweethearts Of The Rodeo" album (released 50 years ago. Lloyd recorded the album together with Jay Dee Maness, who also played on the original album. A must have album and an unforgettable appearance by both steel guitar legends!