Red Kilby's new CD is a must for all lovers of the traditional country sounds of the 60's and 70's. Red told me that this project is a labor of love, and with the help of a stellar group of musicians he put together an exciting album bringing back memories of the "Bakersfield Sound" as well as of great artists like Charley Pride. Red' vocals are exceptional, no need to talk about the musicians!
You can contact Red for orders under www.redkilby.com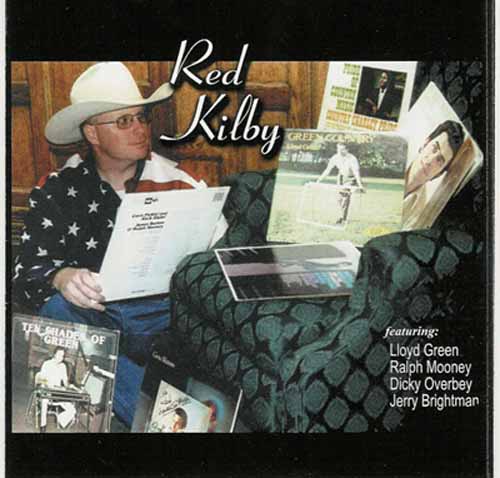 Musicians:
Lloyd Green, Jerry Brightman, Ralph Mooney and Dickie Overbey on Steel Guitar
Redd Volkaert and Junior Knight on Lead Guitar.
Dale Morris on Fiddle
Dick Dunn on Drums
Reggie Brown on Bass
Jeff Williams on Keys
Redd Volkaert on Rhythm Guitar
Jake Hooker on Harmony Vocals and Red on Lead Vocals
Tracks:
1. That Bakersfield Sound = Dicky and Ralph
2. When she does me right = Lloyd
3. I'll come running = Jerry
4. Colors I'm gonna paint the town = Ralph
5. Crystal Chandeliers = Lloyd
6. Honky Tonk Heartache = Ralph
7. If there's one angel missing = Dicky
8. Your's to hurt tomorrow = Lloyd
9. Just between you and me = Lloyd
10. AKA Gumpy's Girl = Dicky
11. I'm gonna knock on your door = Lloyd and Jerry
12. 11 months and 29 days = Ralph and Dicky
Here are a few excerpts from Lloyd Green's remarks about the album:
"Now he's done it, really done it! Red Kilby had this irrational idea that he could go to Texas and get some of his musical heroes from the past together; steel players, guitar players, and others. Then to make things worse he even imagined he could cut a real, genuine country album just like we used to record in the 1960's. Talk about Paranoia!
Evidently the world is madder than I suspected. He did it. ...
It'll take you a long time to absorb all of the good steel and other music on the CD, so get prepared for some of the finest shuffles and country recordings to come down the road recently."